An Investigative Story
Both sides have facts, which picture comes into focus depends on how those facts are Framed. Season two is out now! Listen wherever podcasts are available.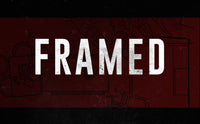 Season Two
On August 10th, 1991, nine victims were arranged in a circle and executed in a Buddhist Temple outside of Waddell, Arizona. The Framed Team spent two years combing through every piece of evidence, every misstep, and every alibi to try and figure out what exactly happened in the Wat Promkunaram Temple and, maybe more importantly, why it happened.
Listen Now
Season One
One unsolved crime has divided a community for more than a decade. This season on Framed we will go beyond the narratives and try to answer the question of what happened one fateful night in 2002. 
Listen Now